Please refer to below information:
• Detailed Services for Representative Office Registration in China
• Definition and Introduction of Representative Office in China(RO)
• Relative Documents Required & Registration Procedures of Representative Office
• Maintenance of Representative Office In China
• Representative Office De-registration (Closing down a Rep. Office) in China

Note: In Mainland China, there are 4 modes of business presences for foreign investors: WFOE (65%), Representative Office (20%), FIPE (10%), and Joint Venture (5%). About 20% of Jilian's clients chose Rep. Office as their China business entity since its cost efficient and it requires no capital investment.

Introduction of Representative Office (RO)
ROs are not allowed to engage in operational activities directly, RO can't issue official invoices, nor receiving payments from clients. State Administration of Industry and Commerce (SAIC) usually specifies in the scope of business, as it shown in the Registration Certificate of ROs that ROs can not engage in direct operational activities. Therefore, it's not a form of foreign direct investment (FDI) in China. However, some ROs are engaged in operations in a lawful and tacitly permitted way and constitute one of the direct foreign Investment forms in China. For instance: ROs of foreign law firms, ROs of foreign airlines etc.

A Representative Office in China can only engage in non-profit activities, it can carry out the following functions:
• Coordinate for the parent enterprises' activities in China;
• Liaise with local and foreign contacts in China on behalf of the parent enterprise;
• Conduct research and provide data to potential clients or business partners;
• Conduct research and survey for its parent enterprise in the local market;
• Make travel arrangements for parent enterprises representatives and potential Chinese clients;
Under no circumstances may a Representative Office do the following in China:
• Sign contracts and deals on behalf of the parent enterprises;
• Directly engaged in business for profits;
• Collect money and issue invoice within Chinese for services and products;
• Represent each firm other than its parent enterprise;
• Buy property and import production equipment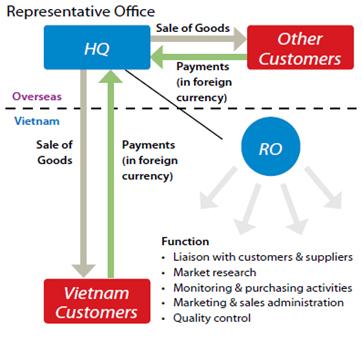 Features of a Representative Office
1.1. Name
Representative office name should be in the form of "Name of the Enterprise + Name of the City + Representative Office"form.

1.2. Business Address
Before starting to register a Representative Office, it is required to decide the place and building where office is going to be located in, since the proposed office address need to be mentioned in the application for approval.

1.3. Owns a Legal Status of a Representative Office
The Representative Office is a Non-legal entity representing its' parent company overseas. A representative office is not allowed to engage itself in business activities, issue invoices on its behalf, remitting out, signing sales and purchase contracts, or receiving reward from services performed but only act as a liaison and promotion office for its parent company.

Note: the business address must be located in commercial buildings approved by the government.

Please refer to below information:
• Detailed Services for Representative Office Registration in China
• Definition and Introduction of Representative Office in China(RO)
• Relative Documents Required & Registration Procedures of Representative Office
• Maintenance of Representative Office In China
• Representative Office De-registration (Closing down a Rep. Office) in China

If you have any questions about your China business, please feel free to contact us for free.
Contact us in Shanghai, Beijing, Shenzhen or HK for more details:


Jilian Consultants
Telephone:
+(86)21- 6071 0208(Shanghai)
+(86)0755-2394 1595(Shenzhen)
+91 124 436 1515(India)
Email:info@ijilian.cn
Address:
Rm2008, O.T.C Building, No.912,Rd Gonghexin, Shanghai, China.
Rm6519,block A,Jingjibinhe Times Building,Futian District,Shenzhen.
Centrum Plaza First Floor,Office No.111,Golf Course Road,Gurgaon.
Rm104, Tower 1, Shakti Towers, 766 Anna Salai, Chennai, Tamil Nadu.
Our consulting specialist:
Ms. Vivia Fan(English & Mandarin)
Wechat/Mobile: +(86)135 2424 9506
Email: vivia@ijilian.cn

Ms. Claire Qin(English & Mandarin)
Wechat/Mobile: + (86)189 2372 4682
Email: claire.qin@ijilian.com

Mr. Tony Chen(English & Spanish)
Wechat/Mobile: + (86)185 2105 5967
Email: tony.chen@ijilian.com

Complaints and Suggestions
Wechat/Mobile:+ (86)187 2157 9300
Email:awan@ijilian.com
WhatsApp:+86187 2157 9300
Office Time: Monday to Friday 0900AM-1700PM (GMT+8)