Advantages of Setting up a company in China
World's largest foreign exchange reserve: Government has aggressively put forward stimulus plans to boost domestic consumption.
Personal savings: As China economy develops and China government encourages local consumption, Chinese people are more comfortable to spend their money.
China government has taken active macro-economic measures to boost the domestic market. With the huge reserve of China government and hard-earned saving of her people, your business will lag behind if cannot tap into the huge opportunities for China trade and China investment.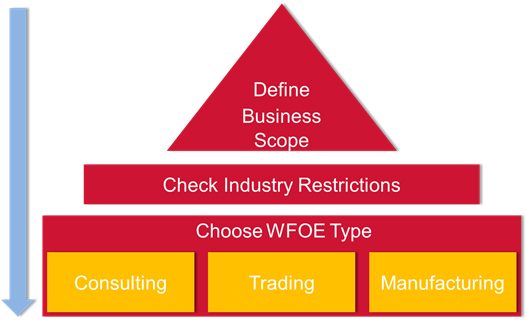 Price controls: China has abolished most price controls, with market forces now determining the prices of the majority of products traded. In general, prices remain controlled only for goods and services that are deemed essential.

Intellectual property: China has aligned its legislation with the minimum WTO requirements of the Trade-Related Aspects of Intellectual Property (TRIPs) protocol, which contains general standards for the enforcement of intellectual property rights.



Main Company Forms in China

Foreign investors can invest in China through the following main forms.
Wholly foreign-owned enterprises (WFOEs)
Equity joint ventures (EJVs)
Co-operative joint ventures (CJVs)
Joint stock companies (JSCs)
Representative offices (ROs) and branches
Foreign Invested Partnership Enterprise

1. Fill out the application form (sign the agreement);

2. Company name search & confirmation;

3. Pay for the services;

4. Submit the needed documents;

5. Check the documents;

6. Prepare for the statutory documents; Let the investors sign the documents personally, and then submit all the documents to the government

7. Keep clients informed of the processing.

8. Finish processing in 30-50 working days; (it depends on the registered address and business scope)

9. Hand over all the company kit to clients;

10. Sign the receipt.


Jilian's Service
With the attractive investment environment of China, more and more investors started their business in China, we offer advice about starting a business in china, and we also help them to go through the whole process of setting up their business. After that, we keep offering business outsourcing services in various field, such as tax and finance, property right, visas, work permit, etc.


If you have any questions about your China business, please feel free to contact us for free.
Contact us in Shanghai, Beijing, Shenzhen or HK for more details:
Jilian Consultants
Telephone:
+(86)21- 6071 0208(Shanghai)
+(86)0755-2394 1595(Shenzhen)
+91 124 436 1515(India)
Email:info@ijilian.cn
Address:
Rm2008, O.T.C Building, No.912,Rd Gonghexin, Shanghai, China.
Rm6519,block A,Jingjibinhe Times Building,Futian District,Shenzhen.
Centrum Plaza First Floor,Office No.111,Golf Course Road,Gurgaon.
Rm104, Tower 1, Shakti Towers, 766 Anna Salai, Chennai, Tamil Nadu.
Our consulting specialist:
Ms. Vivia Fan(English & Mandarin)
Wechat/Mobile: +(86)135 2424 9506
Email: vivia@ijilian.cn

Ms. Claire Qin(English & Mandarin)
Wechat/Mobile: + (86)189 2372 4682
Email: claire.qin@ijilian.com

Mr. Tony Chen(English & Spanish)
Wechat/Mobile: + (86)185 2105 5967
Email: tony.chen@ijilian.com

Complaints and Suggestions
Wechat/Mobile:+ (86)187 2157 9300
Email:awan@ijilian.com
WhatsApp:+86187 2157 9300
Office Time: Monday to Friday 0900AM-1700PM (GMT+8)